Spartan Armor Systems Level III+ AR550 And Legion Xl Plate Carrier Package
Select Curve
Single Curve
ATC Advanced Triple Curve
Select Coating Thickness
Base Coat Corrosion Protection
Full Coat Frag Mitigation Coating
Select Carrier Color
Description
Price Match
Shipping
Returns/Exchanges
SPARTAN ARMOR SYSTEMS

®

SENTINEL LEGION XL PLATE CARRIER 
The Spartan Armor Systems® Legion XL Plate Carrier is rugged, reliable, and fully adjustable from 2XL-4XL. Designed to hold our 11"x14" body armor plates, the Legion XL can also accommodate 6"x6" or 6"x8" side plates for additional protection and features a completely removable cummerbund.
Developed For You
Born of numerous customer inquiries and feedback, we developed the Sentinel Legion XL Plate Carrier to be adjustable from a 2XL-4XL size. The Sentinel Legion XL weighs in at approximately 3lbs. 9oz., will hold our Steel Core AR500 Omega and AR550 11"x14" body armor plates, while also offering the option to add in 6"x6" or 6"x8" side plates. If you don't want to run the Sentinel Legion XL with the cummerbund - no sweat! The cummerbund is easily removable so you can run your plate carrier with just the front and back plates or the full set-up with side plates.
Comfort And Convenience
The Spartan Armor Systems® Legion XL Plate Carrier includes features designed for customization, modularity, and comfort while affording supreme protection in the field. Anti-slip shoulder padding with velcro, side release buckles on the waist strap, and elevated mesh for breathability make this one big, bad, carrier. 
Sentinel Legion XL Plate Carrier Specs: 
Durable Emergency Drag Handle
Anti-slip Shoulder Padding With Velcro
Side Release Buckles On The Internal Waist Strap
Elevated Mesh Allowing For Extreme Breathability 
Holds 11"X14" Front And Back Plates
Removable Cummerbund With Side Plate Pockets For 6"X6" And 6"X8" Armor
Velcro In Front Of The Carrier Is 8"x4" With A Velcro Loop On Each Side
Velcro On The Back Of The Carrier Measures 9x3
Stronger Carrier Material That Can Withstand Extensive Wear And Tear Over A Long Period Of Time
1000 Denier
Bottom Loading
Weighs Approximately 3lbs. 9oz.


NOTE: This plate carrier CAN accept 6"x8" side plates. There is a flap of Velcro inside each side plate pocket that must be flipped vertically to allow for 6"x8" side plates.
SPARTAN ARMOR SYSTEMS

®

AR550 BODY ARMOR SET OF TWO
Spartan Armor Systems® has literally taken Level III-rated body armor to the next level by adding a 10% increase in ballistic core hardness to their AR550 line of armor. Because of this enhancement, our AR550 level III+ body armor offers operators advanced rifle-rated threat protection and has been special threat validated in an independent NIJ credentialed laboratory. Manufactured and tested within the highest quality standards, utilizing laboratory-certified steel, our single curve, full coat AR550 plates have received NIJ Certification under NIJ 0101.06 level III specifications. For added peace of mind, every plate of armor sold by Spartan Armor Systems® is serialized allowing it to be easily tracked back to the original plate of steel it was cut from should there be any question as to its ballistic properties.
Protective Value Added 
We understand the NIJ rating system can be confusing. Simply put, our AR550 body armor is certified as NIJ (National Institute of Justice) level III rated but has undergone special threat testing to achieve a level III+ rating. AR550 Single Curve, Full Coat body armor plates are labeled as level III on the back of the plate as the National Institute of Justice (NIJ) does not currently have a level III+ rating. "Level III+" indicates that special threat testing was created within the body armor industry to fill the void between NIJ 0101.06 level III and NIJ level IV, specifically to account for high-velocity penetrator rounds such as M855 (aka green tips). While AR550 single curve full coat plates are certified as NIJ level III, rest assured they are made from AR550 ballistic grade steel and have been special threat tested to attain the level III+ qualification. Quite simply, the NIJ requires that we label Spartan Armor Systems® AR550 Single Curve Full Coat Plates as "Level III" even though they are capable of providing the operator with a higher degree of ballistic protection. 
Battle Hardened
Our AR550 armor hits the "sweet spot" in the Brinell Hardness (BHN) range. With a core hardness of approximately 545-560 BHN, we have found that the ballistically rated variant of AR550 that we use when manufacturing our AR550 armor is perfect for defeating higher velocity threats, while not exposing the armor plate to extreme stress due to forming.
Our AR550 Level III+ armor has our GEN2 lower cut radius, it's much harder than AR500, but not so hard that it risks incurring severe stress while undergoing the formation process.
Laser Cut to Protect Ballistic Integrity
All steel core body armor is cut and shaped after the ballistic properties have been formulated within the steel. While other steel body armor manufacturers commonly use plasma torch cutting that applies excessive heat (25,000 ˚C / 45,000 ˚F) to a wide portion of the steel plate, Spartan Armor Systems® only utilizes laser cutting in order to protect the ballistic integrity of each steel core body armor plate we manufacture. Plasma cutting also requires grinding to clean up the edges after the fact, resulting in increased heat and possible fatigue. At Spartan Armor Systems®, we maintain the highest production integrity and quality standards every step of the way for our customers because we know what is at stake. 
Additional Protection: Full Coat or Base Coat Options
We strongly recommend choosing our full coat option when you buy steel core body armor. Our proprietary plate coating, Encapsaloc™, is a potentially life-saving feature that captures spalling as a result of ballistic impacts on the strike face of the steel core armor plate. Do not settle for steel armor that is merely coated with generic truck bed liner spray coatings that have not been tested for ballistic efficacy. The strike face of our Spartan Armor Systems® AR550 Body Armor plates proudly bears the mark of our Spartan logo.
IMPORTANT NOTE: The base coat option only provides protection against corrosion and offers little to no fragmentation/spall mitigation. Should you choose to select base coat plates, please consider adding our Spall Containment Sleeve (sold separately) as a means of fragmentation mitigation.
Blazing The Trail of Innovation
Our AR550 Spartan Body Armor now offers operators the option of coming with the Advanced Triple Curve (ATC) feature. This is an industry FIRST! Spartan Armor Systems®™ is proud to be the LEADER in the industry when it comes to offering our customers triple-curved AR550 body armor. With higher velocity rifle threats commonly present throughout the United States, we've developed this AR550 armor to specifically defeat some common threats such as 5.56 x 45 XM193, 5.56 x 45 M855 /SS109, and 7.62 x 51 (.308 Winchester) at a rated velocity of 3,100 fps or less. Additionally, we've successfully defeated these threat profiles from Close Quarters Battle (CQB) distances…repeatedly!
Configuration: This armor comes as a pair, meaning you will receive both front and back plates.
Shooters Cut Plate Weight (per plate):.
11"x14" AR550 Shooters Cut: Base Coat 9lbs 15oz. Full Coat 11lbs
Thickness: .25″ AR550 plus approximately .25″ coating makes this slim profile plate overall .5-.6″ in total thickness
Side Plate Weight (per plate):    
6×6 approximately 2lbs 9oz (base coat) or 2lbs 11oz (full coat)
6×8 approximately 3lbs 6 oz (base coat) or 3lbs 12oz (full coat)
AR550 Body Armor - Shooters Cut Specs:
Made in U.S.A.
Special Threat Tested to Level III+ Standards
Single Curve Base Coat Model is NIJ Certified Level III, But Provides Level III+ Protection
Available in Single Curve (commonly Called "MultiCurve" by other manufacturers) or Advanced Triple Curve™ 
Full Coat Option Provides Fragmentation/Spall Mitigation, Base Coat Provides Corrosion Protection Only
See a Comparison of Our Full Line of Body Armor: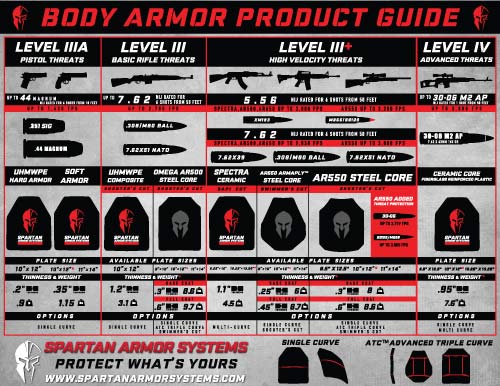 Export Administration Regulations (EAR) and International Traffic in Arms Regulations (ITAR) - US Export Regulations:
Level III and IV rifle rated body armor (Rifle Plates) fall under jurisdiction of the Export Administration Regulations (EAR) and International Traffic in Arms Regulations (ITAR), and are subject to the export control laws of the US Government. Export or re-transfer of Rifle Plates by any means to any foreign end user or for any other end use, whether in the US or abroad without written approval of the US Department of Commerce or Department of State is prohibited.
Yes, we do! High-quality products are non-negotiable, which is why we work exclusively with the best protective product manufacturers.
Because of this, products may not be cheap, but we guarantee that they are reasonably priced.
However, we want you to have confidence that you are getting the absolute best price for your product.
So to show our confidence in our prices, we offer a price guarantee to our customers. If you find out within six months of your purchase that our company offered an item for a higher price than a competitor, we will refund the difference.
To get a refund, all you need to do is e-mail us a link to the product on our website and the same product on our competitor's website within six months from the date of your purchase, and we will process the refund accordingly. (Terms Apply)
Terms and Conditions of our 100% Price Guarantee:
You must have purchased the item from our website before requesting your Price Match Guarantee
Discounted goods and goods received as an Ad on such as; buy one, get one free offer are not eligible
The item must be in stock on the competitor's website
The 100% price guarantee is only valid within the first six months from the date of purchase
The competitor must be an online store; they may not have a retail location
The competitor website cannot be a discounter or an auction website (i.e., eBay, overstock, etc.)
The competitor must be an Authorized Retailer of the product in question
The Price Match Guarantee includes the item price and the shipping charges; it excludes sales tax
Order Confirmation:
As soon as you place your order, you will receive an order confirmation e-mail.  This means that we have received your order in our system and pre-authorized your credit card for the purchase. 
As soon as we receive your order, we automatically reach out to our suppliers to confirm that it is in stock and available for immediate shipment.  If your item is on backorder or unavailable, we will reach out to you via e-mail to see how you'd like to proceed.  If your item(s) are available we will process the charges and submit the order for shipment. 
Order Shipment:
If your order is stock and we process the charges to your credit card, it will ship within the time frame specified on the product description page (which varies depending on the item & manufacturer).  
We will send you tracking information within 24 hours of your order leaving the warehouse to the e-mail address you provided when checking out.  If you do not receive tracking information from us within six business days of your order, feel free to follow up with us at orders@premiumbodyarmor.com.
Damaged Packages
Please inspect the packaging of your item(s) when they arrive, if you notice any damage you should make note of it when signing for delivery.  If your item(s) do arrived damaged, please send photos to returns@premiumbodyarmor.com and we will process an insurance claim on your behalf.
Order Cancellations
All orders cancelled after 48 hours are subject to a $20 administration fee, whether or not your order has shipped.  If you order has shipped, you (the buyer) will also be responsible for actual return shipping charges.
Refunds
In 99.9% of cases, refunds will only be issued as in store credit because of the nature of the products being sold and manufacturer specific policies. Additional terms may apply (see "Vendor Specific Return Policies" below).
General Return Policy
Premium Body Armor accepts returns within 10 business days of product receipt for most products.
Defective Product Returns
We stand behind our products 100%! Should an item be returned because it was defective, mis-represented, not as described, etc.
Please notify us immediately if you discover a manufacturing defect with your item. Premium Body Armor will issue a full refund and provide a return shipping label.
Return Instructions
If you would like to submit a return, please fully read the Return Policies on this page, submit a claim within 30-days of receiving your items, and follow these instructions:
Email us at returns@premiumbodyarmor.com to have an agent review your request and see if you qualify for a return. If you qualify, please use the link provided by the customer service agent and go to the "Submit a Return" form on our Shipping and Returns page of our website to submit your claim.

Provide your name, email, order number, 

ticket number,

 and the reason for your return.

An agent from Returns will review your claim and send you a confirmation email stating it was received along with a digital copy of a return label and instructions. The cost of return shipping will be deducted from the credit amount.

Upon arrival and inspection of the product, within 5-10 business days, you will either be issued a store credit, or an exchange of product will be shipped out.
Some exclusions apply (see "Vendor Specific Return Policies" below).
Vendor Specific Return Policies
Each brand/vendor may have their own specific return/refund policies. Please refer to the following list to see if your item has any special instructions before making your purchase.
By purchasing any of our items, the buyer certifies they have read and agree to our shipping, return, refund, and privacy policies.
Armored Republic AR500 Armor
At AR500 Armor®, 100 percent customer satisfaction is always our goal. We understand that issues with orders may arise from time to time that need to be addressed.
Sales of promotional, seasonal, discontinued, and clearance items, as well as e-gift cards, are all final and cannot be returned or exchanged.
Please note: If a claim was not submitted via web, email, or by phone, the return will not be valid for store credit or exchange. Please make sure to contact us in advance to ensure the most timely and appropriate response.
If you think there may be a defect with any of the products you purchased from us, please contact us for store credit or an exchange of the product. AR500 Armor® will accept requests for store credit or exchanges on all products, excluding medical items and level IV body armor, within 30 days of delivery. 
Refunds will not be issued for products that were delivered as described on our website. All armor plates must have the original manufacturer sticker on the plates or they will not be accepted for return claims. The cost of return shipping will be deducted from the return credit amount.  
Once a return request is submitted, a customer service agent will review the request and send a return label via email. If you prefer a return label be mailed to you, please let us know in advance. Include the return shipping in-process form, within your package, and follow the return instructions page which will be provided with the return label. Failure to fill out the return shipping in-process form properly and include the form with your return may result in a longer processing time for your return or denial of your refund. This form helps the staff in our warehouse file your return more efficiently, allows us to notify you quickly with updates about your return, and assists us in getting you a faster credit/refund/exchange.    
After the product arrives at AR500 Armor®, it will be inspected, and your request will be processed. You will receive your store credit within 7-10 business days upon your returned item (s) arrival at our facility.  Any items exchanged will ship out with a new Ships in About time frame and will depend on the highest Lead Time within the order.
Body Armor Direct
We do not accept returns, refunds or exchanges on any items for any reason.
Caliber Armor
Caliber Armor guarantees the proper fit of your body armor. If you feel your vest does not fit properly, you can exchange it within 30 days of purchase in its original condition. All return shipping costs are the sole responsibility of the customer. If no exchange is made a 10% restocking fee is applied.
Caliber Armor provides a five (5) year warranty on all of our ballistic inserts and two (2) year warranty on all of its armor carriers.
In your email include order number and reason for return. You will be issued an RMA# number and form to be included in your return package. Cost of return is based on reason for return. If the return is being generated with no fault to Caliber Armor the customer is responsible for the return. All return shipping costs are the sole responsibility of the customer. A 10% restocking fee is applied. 

Elite Survival Systems
Please do not return any merchandise without prior written authorization - no credit will be issued for any such unauthorized return. All claims of return merchandise must be made within ten days of date of invoice. Product must be returned within 30 days of invoice date to avoid a twenty percent (20%) restocking fee. All shipping charges incurred by the customer as a result of items returned for refund or exchange are the responsibility of the customer.
PPSS Group / SlashPro
The Consumer Protection (Distance Selling) Regulations gives you a cooling off period that allows you to return your item for any reason.
Your right to cancel an order for goods starts the moment you place your order and ends 14 days from the day you receive your goods.
If your order consists of multiple goods, the 14 day period runs from when you get the last of the batch.
This 14 day period is the time you have to decide whether you wish to cancel and return your order.
To be eligible for a refund you must notify us in writing via email to returns@premiumbodyarmor.com that you wish to return an order within this first 14 days.
You then have a further 14 days to return the goods to us from the date you contacted us about the return.
Please note that goods must be received back within this second 14 day period.
You must include in the package our returns form and include your full contact details and the reason for the return.https://www.slash-pro.com/terms-and-conditions
You will not be entitled to a refund if you have not advised us of the pending return/cancellation within the first 14 days, however we will consider an exchange.
All items must be returned unworn, undamaged and in the condition they were sent to you with all labels and packaging intact.
The cost of return postage will be at your expense unless we dispatched the incorrect item or the goods are faulty.
Any agreed exchanges or refunds will be processed within 14 days from the date we receive the goods back.
Goods that are returned will be inspected for any sign of use, damage, misuse or neglect. A deduction can be made if the value of the goods has been reduced as a result of you handling the goods more than was necessary. If there is any doubt we reserve the right not to exchange or give a refund.
Credit card payments will only be refunded to the original card If there are any problems with your order please contact us immediately.
Customers are reminded that we are not liable for returns that are lost or damaged in the postal system.
Customers should always ensure that the appropriate level of insurance is purchased from the carrier.
Predator Armor
We strive for 100% customer satisfaction. Our products are potentially life saving products and we want to make sure you get what you need. We understand that on occasion issues with orders may arise. All products are eligible for an easy return or exchange as long as the return is initiated within 30 days of receipt, and the product is in new, unused condition. Shipping and handling charges are non-refundable. There is no restocking fee for returns or exchanges. The customer is responsible for any return shipping costs associated with returning the product. Returns must include an invoice or information regarding the return.
If you would like to make a return and your product is new, unused condition, and submitted within 30 days of receiving your items, follow the steps below:
Email us at returns@premiumbodyarmor.com with your name, order number, and reason for return. We will review your submission and respond to you with a document to print and include in your shipment.

Ship the item back to us at the address provided to you by the customer service agent once your return has been approved.​

Once we receive the returned product and review that the product is new, unused condition, we will proceed with the exchange or refund. Please allow 5-10 business days from the time the item is received to process a refund.
Self Defense Company / Bulletproof Bodyguard Backpacks
You have 30 days after you receive the item to return it for a refund or size exchange. 
You must email returns@premiumbodyarmor.com
Return postage is at the customer's expense and shipping costs will be deducted from the refund – this is includes all FREE SHIPPING. The cost of shipping the original order to you will be deducted from your refund.
You may be charged a restocking fee if the item is damaged or dirty and not in 100% condition.
The return of armor plates is at your own risk due to the nature composite material. Plates may be internally damaged if not shipped or transported correctly. If you return plates that are packed improperly you will not receive a refund. 
Up to 90 days of purchase under normal usage. This does not include damage due to rips, tears or breakage of backpack clips. This includes seams or velcro fasteners coming loose. If you return an item that looks damaged you will be notified and you we will return the item to you.
The Self Defense Company has a right to replace any damaged or defective items.
If your package is damaged please immediately get a note from the shipper, take pictures of the package, the damaged item and email them to returns@premiumbodyarmor.com for an exchange. In this case we will issue a priority mail return label for a large priority box from the US post office. 
The Self Defense Company can only ship orders to certain countries. This is subject to change based on export laws. If you want to see if we can ship to your country email returns@premiumbodyarmor.com. 
The Self Defense Company is not responsible for any duties, taxes or fees. This is the responsibility of the customer.
All returns are shipped at the customer's expense. 
Shellback Tactical
All body armor sales are final. Body armor includes but is not limited to soft armor, hard armor plates and helmets. These items cannot be returned as Shellback Tactical no longer has chain of custody of the item and cannot guarantee that after we have shipped the product that the structural integrity has been maintained.
Spartan Armor Systems
The buyer is responsible for inspecting their products within a reasonable amount of time, which we consider to be 10 business days from item receipt. If there is a discrepancy discovered with the buyer's purchase during this time period, Spartan Armor Systems, The Target Man will be fully responsible for resolution and all associated shipping and product costs.  After the inspection period, discrepancies will be resolved at the discretion of Spartan Armor Systems, The Target Man, and on a case by case basis. After the 10 day inspection period, all costs associated with discrepancies will be assumed by the purchaser.
Should the item be misrepresented, not as described, or the wrong item was sent to the buyer,  Spartan Armor Systems will pay all costs associated with the return shipment to Spartan Armor Systems.
Spartan Armor Systems will ship only completed orders in full. For example, if you purchase three targets and one of the targets is on back order, we will have to wait until the last target is ready before we can ship out your product. To continue to provide you with the best pricing possible, we must wait until your order is fulfilled 100% before shipping.
Should you need your partial order urgently, we will review your order on a "case by case" basis.
Spartan Armor Systems accepts returns within 10 business days of product receipt for all products.
Defective Product Returns
We stand behind our products 100%! Should an item be returned because it was defective, mis-represented, not as described, etc. Please notify us immediately if you discover a manufacturing defect with your item. Spartan Armor Systems will issue a full refund and provide a return shipping label.
Please allow 5-10 business days from the time the item is received to process a refund.
Tactical Scorpion Gear
We are committed to total customer satisfaction and have a "No-Hassle" policy as long as they are processed within 30 days of receiving your order. Additionally, we never charge a restocking fee on retail orders.
PLEASE NOTE: All clearance sales are final. We cannot accept returns on clearance, special order or customized items. We do not refund original shipping costs on returned orders, and we do not cover any shipping costs associated with your return.
Did we ship the incorrect item? We'll send you a corrected version as soon as possible. Paying for the return of any incorrect items.
All returns require a note inside the package(s) with your order information and what you wish to accomplish with your return. Ship your package using a tracking number. By using this method, the return merchandise can be tracked and delivery can be confirmed. We do not refund original shipping costs on returned orders, and we do not cover any shipping costs associated with your return.
Please ensure returned items are packed well to avoid damages in transit back to our location. Any items damaged may be denied a refund or only a partial refund will be issued.
Want to exchange an item? Simply return your original item(s), and place a new order. We will ship your new order as fast as we can, reducing wait time for replacement items. Once we receive and process your return, we will issue an immediate refund.
Most Frequently Asked Questions